Econics has moved from the 'burbs to the centre of the action. Easier access to resources, more bike-friendly commuting, and a more stimulating office environment prompted the switch.
We share our new space with Tectoria, an organization that accelerates technology-focused companies in Victoria. Surrounded by other hi-tech, innovative companies, we're looking forward to exploring fresh perspectives and novel ideas with our new office mates.
Check out a few pics of our swanky digs.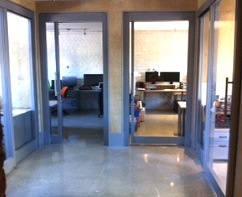 We're also hoping that the central location creates more opportunities to connect in person with clients and friends, both new and old. The 'hood has a plethora of great coffee shops, so if you find yourself downtown with a few minutes to spare, let's grab a cuppa joe!